Spiral of light and reflections.
Aluminium, Ardesia, Copper, Bronze.

A beam of light is refracted off a decorative surface that creates colors in a unique way and precious iridescent effects.
LOFT 212 is a spectacular decorative paint that gives elegance and character to a wall, or to a space.
There are four colors that can trialled in a variety of applications, creating different final effects and are recommended to characterize modern environments with great personality, or to embellish spaces with antique or period furnishings.
LOFT 212 is a decorative water-based paint ready for use and simple to apply.






Preparation
LOFT 212 is applied on dry and clean surfaces (new plasters and patches should be at least 3-4 weeks old).
Before application remove all loose and defective parts and paints not perfectly adherent, plasters, debris or old parts.
Prepare the surface with our pre-insulation product ISOFARB ACR-2.
This is essential for particularly absorbent surfaces or painted with tempera, smoothed plasters or plasterboards.
LOFT 212 is ready to use.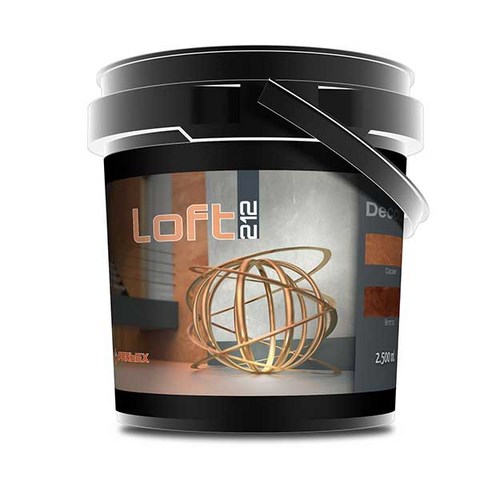 Yield:
8 ÷ 10 sqmt/l. ( 2.500 ml ~ 20 sqmt )

Tools cleaning: H2O ~ 30 °C


Application
1 Apply one or two coats of white paint "FONDO VEICOT".
2 Apply two coats of LOFT 212 with a rectangular stainless steel trowel. Leave 6 hours between coats. Make overlapping and short strokes.
3

At the end of the application, before it dries, it is possible to smooth with a damp spatula, exerting a slight pressure.